Board of Commission Meeting Tuesday July 13th
THE REGULARLY SCHEDULED MONTHLY MEETING OF THE BOARD OF POLICE COMMISSIONERS OF THE BROADMOOR POLICE PROTECTION DISTRICT WILL BE HELD AT 7:00 PM ON TUESDAY, THE 13TH OF JULY AT THE BROADMOOR POLICE DEPARTMENT LOCATED AT 388 88 th STREET, BROADMOOR, CA.
Click here to view the commission agenda.
Broadmoor Chief of Police Announcement
The Broadmoor Police Protection District is seeking a progressive, dynamic, and proven public safety executive to lead its Police Department. The Chief of Police oversees the activities and operations of the Police Department including law enforcement, crime prevention, and crime suppression programs. The Chief also serves a dual role of Special District Manager which serves as the only public forum in Broadmoor, which is the Police Commission, often in a public setting. This position has responsibility and oversees a staff of 20 (18 sworn full time, per diem and Reserve / 2 non-sworn) with a budget of $2,870,100.00 for FY21/22.
Click here for the full job announcement.
To view the executive summary description, click here.
We would like to hear from you.  If you have a question or comment, please feel free to contact our department today.
The Broadmoor Police Protection District is a Police Commission of three residents elected at large by the voters of the district.
Broadmoor Police Safety Update
Broadmoor Police officers in accordance with guidance from federal, state and local health directives will be wearing N95 masks while on duty. This is designed to protect both the public and our officers. This also reinforces the need to practice personal spacing amongst eachother. Please stay safe.
Resources
Click here for SAMCEDA, Assistance & Guidance for Businesses and Workers impacted by Covid-19.
Click here for Shelter in place resources.
COVID 19 Update / Broadmoor Police Social Media Outlets
In an effort to help protect our community from the recent COVID 19 outbreak as well as keeping our residents informed, Broadmoor Police has started a Twitter page. The Twitter feed is a relevant information portal to keep the public informed and educated about any items related to promoting a safe environment for our residents to live in. Along with our current Broadmoor Facebook page, we know that utilizing these tools gives us a larger community reach and keeps the information pipeline going to ensure the safety of our residents. I encourage anyone within our district or county to follow these feeds for critical safety announcements.  Above all please stay safe within our community.
Interim Chief Patrick Tobin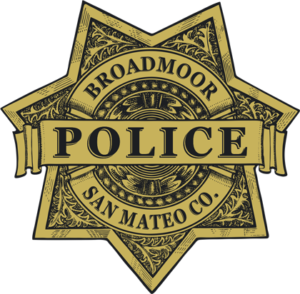 The mission of the Broadmoor Police Protection district is to serve our community with 24 hour a day police services.
In 1948 the residents of the unincorporated hamlet of Broadmoor, which then was larger than the City of Daly City and extended from about Westlake to South San Francisco, was comprised mostly of farm lands, came together and formed their own police department as a police protection district because services from the San Mateo County Sheriff were not sufficient to meet the needs of the residents. In particular, the Sheriff's Office was located in Redwood City, where it is still located, some 20 miles south of Broadmoor.