Broadmoor Police Commission Meeting April 13th, 2021
THE REGULARLY SCHEDULED MONTHLY MEETING OF THE BOARD OF POLICE COMMISSIONERS OF THE BROADMOOR POLICE PROTECTION DISTRICT WILL BE HELD AT 7:00 PM ON TUESDAY, THE 13TH OF APRIL AT THE BROADMOOR POLICE DEPARTMENT LOCATED AT 388-88th STREET, BROADMOOR, CA.
BREAKING: Covid Restriction Update 11/28/20
The state of California is rolling back San Mateo County to the Purple Tier, the most restrictive coronavirus rules as public health officials urge residents to avoid travel and gathering. In addition, a new stay-at-home order — prohibiting residents from leaving their homes to gather with other households from 10 p.m. to 5 a.m. — also takes effect at 10 p.m. Monday, Nov. 30.
For more information Click here.
Broadmoor Officers Show Support For Kaiser Staff
This morning Broadmoor's Chief Connolly and staff along with Officers from our allied agencies cheered on Nurses and Doctors at Kaiser hospital in SSF for their thankless efforts while we all navigate the Covid pandemic.
Click each image to view.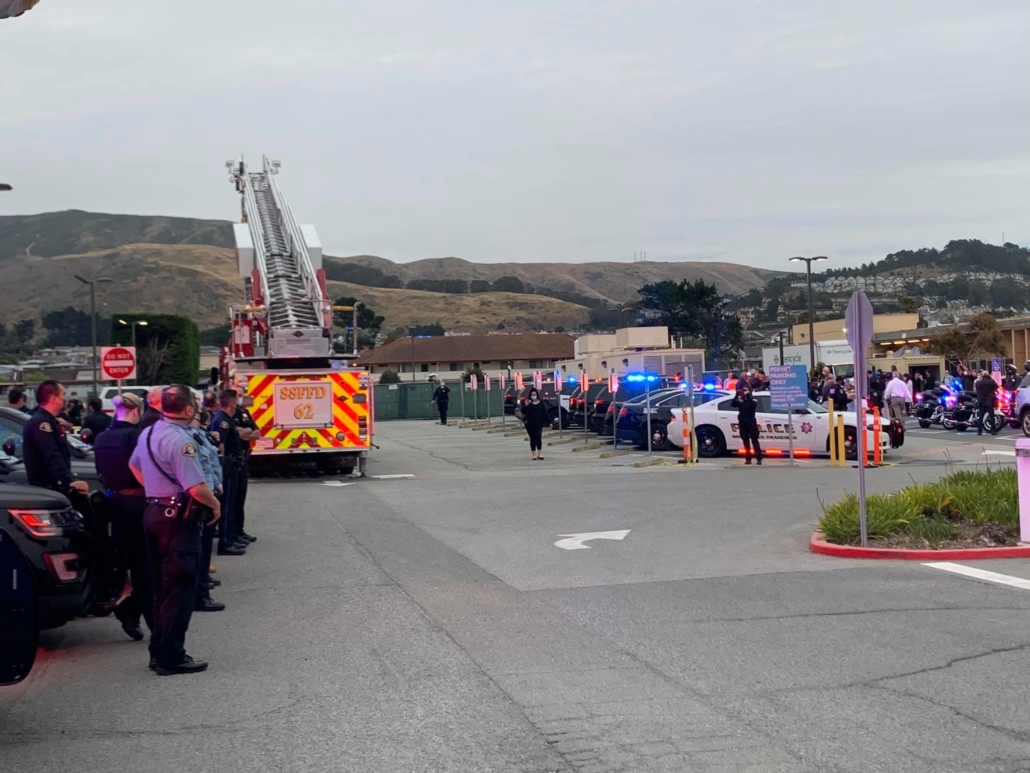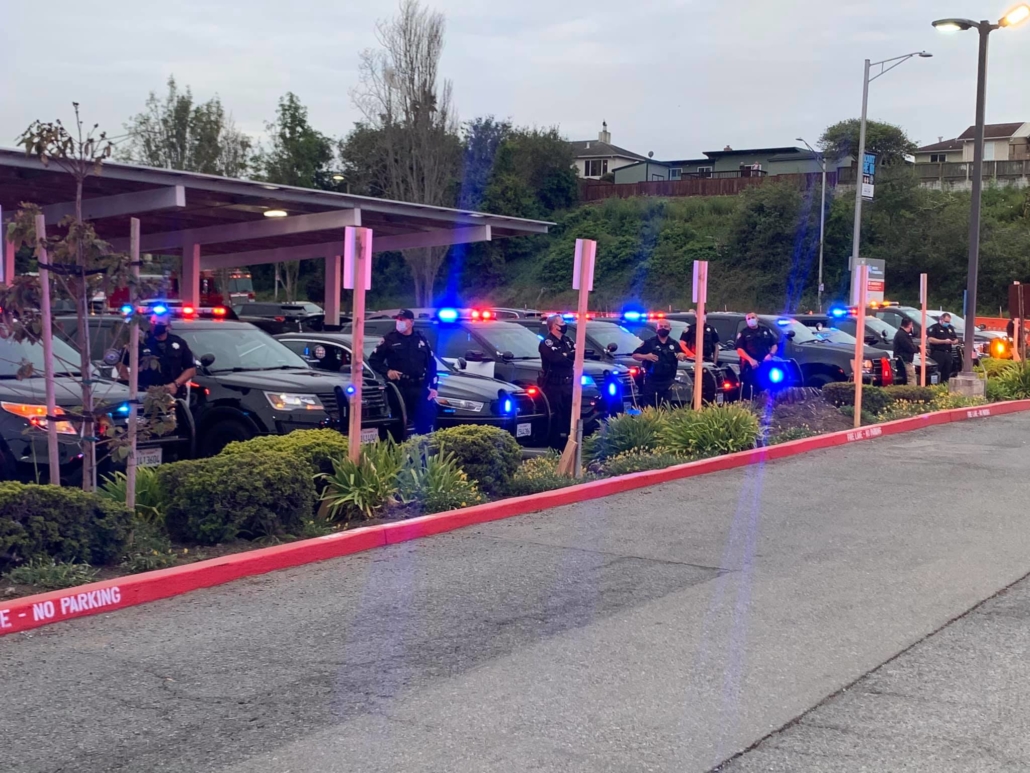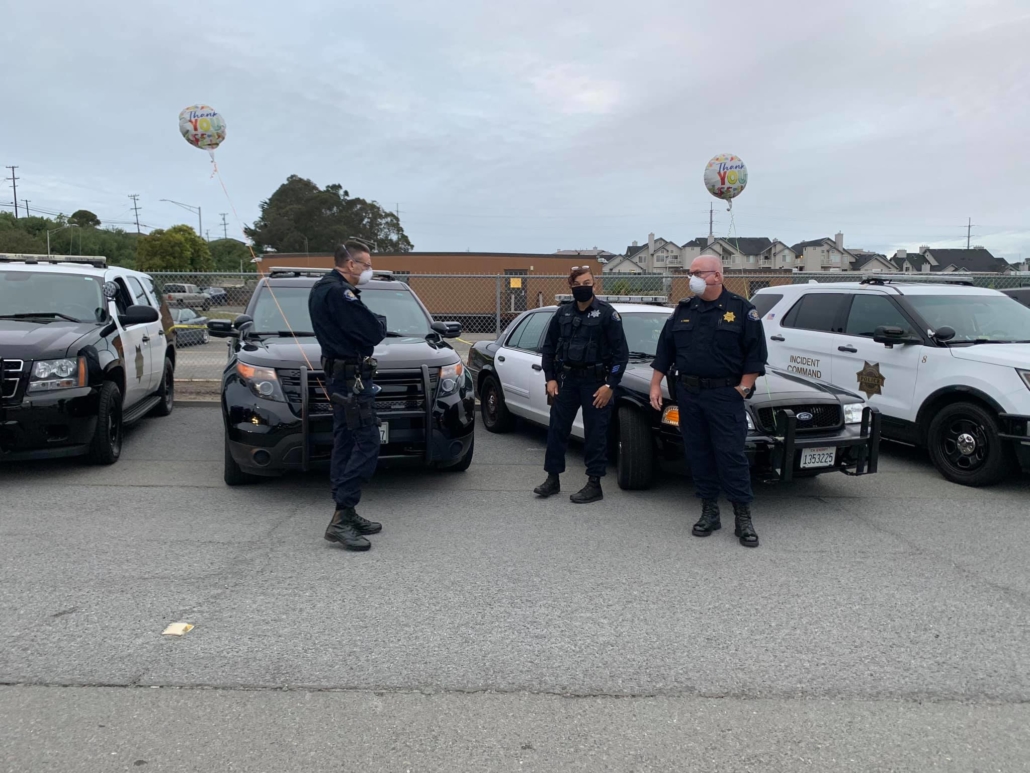 We would like to hear from you.  If you have a question or comment, please feel free to contact our department today.
The Broadmoor Police Protection District is a Police Commission of three residents elected at large by the voters of the district.
Broadmoor Police Safety Update
Broadmoor Police officers in accordance with guidance from federal, state and local health directives will be wearing N95 masks while on duty. This is designed to protect both the public and our officers. This also reinforces the need to practice personal spacing amongst eachother. Please stay safe.
Resources
Click here for SAMCEDA, Assistance & Guidance for Businesses and Workers impacted by Covid-19.
Click here for Shelter in place resources.
COVID 19 Update / Broadmoor Police Social Media Outlets
In an effort to help protect our community from the recent COVID 19 outbreak as well as keeping our residents informed, Broadmoor Police has started a Twitter page. The Twitter feed is a relevant information portal to keep the public informed and educated about any items related to promoting a safe environment for our residents to live in. Along with our current Broadmoor Facebook page, we know that utilizing these tools gives us a larger community reach and keeps the information pipeline going to ensure the safety of our residents. I encourage anyone within our district or county to follow these feeds for critical safety announcements.  Above all please stay safe within our community.
Chief Michael Connolly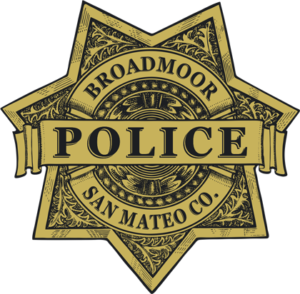 The mission of the Broadmoor Police Protection district is to serve our community with 24 hour a day police services.
In 1948 the residents of the unincorporated hamlet of Broadmoor, which then was larger than the City of Daly City and extended from about Westlake to South San Francisco, was comprised mostly of farm lands, came together and formed their own police department as a police protection district because services from the San Mateo County Sheriff were not sufficient to meet the needs of the residents. In particular, the Sheriff's Office was located in Redwood City, where it is still located, some 20 miles south of Broadmoor.
Chief Michael Connolly is the ninth Chief for the Broadmoor Police Department. Prior to becoming Chief of Broadmoor, Chief Connolly was an elected Police Commissioner for the Broadmoor Police Department since 2016.
In addition, Chief Connolly has thirty-four years of law enforcement experience and retired from the San Francisco Police Department as the Deputy Chief for the Bureau of Investigations after thirty years.
Chief Connolly additionally served as the Deputy Chief of the Professional Standards Bureau where he developed the compliance program for the Department in collaboration with the United States Department of Justice. Chief Connolly is also currently on staff as a part-time educator for the City College of San Francisco in the Administration of Justice program.